Earlier today, when I was jumping from one hyperlink to another, I came across a link to this
decade-old paper
, which is in the context of the Balkan crisis. Forget that context and merely read the following sentences:
An unpleasant truth often overlooked is that although war is a great evil, it does have a great virtue: it can resolve political conflicts and lead to peace. This can happen when all belligerents become exhausted or when one wins decisively. Either way the key is that the fighting must continue until a resolution is reached. War brings peace only after passing a culminating phase of violence. Hopes of military success must fade for accommodation to become more attractive than further combat.
Since the establishment of the United Nations and the enshrinement of great-power politics in its Security Council, however, wars among lesser powers have rarely been allowed to run their natural course. Instead, they have typically been interrupted early on, before they could burn themselves out and establish the preconditions for a lasting settlement. Cease-fires and armistices have frequently been imposed under the aegis of the Security Council in order to halt fighting.
Isn't this what the Kashmir issue, too, has been for sixty-plus years? The cease-fire and the "line of control" in place has merely perpetuated the war, instead of ushering in a sense of peace.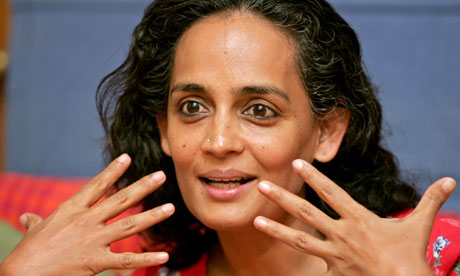 I am with Arundhati Roy (such agreement doesn't happen often!) when she says that Kashmir has never been an integral part of India and maybe Indians should just let go of that territory. I, too, have expressed such sentiments in this blog. I would extend the same logic to Nagaland, Mizoram, ...
The difference though is that as a nobody, and an American nobody, my words don't invite the Indian government's attention as do Roy's. The
latest news
of a mob gathering outside her home doesn't bode well either.