India
recently celebrated
its 66th birthday as an independent country. If we parse those years into periods of 20+ years, it certainly looks like this is the end of the one of those periods and the proverbial fork in the road for India.
After about twenty years--in 1966--Indira Gandhi assumed the leadership position and set the country further down the path of nationalization, and empowering
Ramamirthams
in the
licence raj
that, in turn, worsened corruption, which is another form of "rent-skeeing" in economics jargon.
After another twenty-plus years, with the death of Indira and later her son Rajiv, the country's economy and polity took a different turn more because of a necessity than as a choice. In politics, there was no Nehru/Gandhi scion to continue to treat the country like some kind of a kingdom over which they had a right to rule, and in economics it was crisis time. A crisis that put India on the verge of defaulting on its loans. The IMF bailed India out, and Manmohan Singh entered the scene.
In the twenty-plus years since, India's economic liberalization paid off, enough to trigger slogans like "India Shining" and the country was famously discussed by Thomas Friedman when he suddenly discovered that there were things happening in India.
Friedman proclaimed that the world was flat
, and Wall Street beat the BRIC drums.
Now, yet again, India is looking at economic and political transitions. The rupee has been falling, sometimes way too steeply, which would surely cause the new chief of the central bank to have quite some sleepless nights. There is less investor confidence and, hence, foreign capital isn't flowing into the country even to the extent it previously did. All these in addition to the wide trade and budgetary deficits ought to
make people in India worry
, a lot.
The country is in a better position to counter a crisis, with $277 billion foreign reserves, enough to cover more than six months of imports, according to data compiled by Bloomberg. That compares with less than two months of import coverage in 1991, according to a RBI report in August 2012.
But, no serious policy discussions might be possible at this time because the country is only a few months away from general elections. Manmohan Singh may have hoisted the flag
for a record tenth time
at Red Fort to mark the Independence Day, but it is most likely that there will be a new prime minister the next time around.
Narendra Modi wants to be that new guy. He so wants it. Wants it really, really, bad. But, he comes with train-load of
baggage
. A literal train-load as well. That baggage is also why he has been, for a few years now,
persona non grata
in the United States. Modi knows all too well that he needs to convince India that he will be able to deal with the rest of the world. Especially the US, the UK, and the Euro Zone. He has found an opening--Modi "
has been invited to address MPs in the House of Commons
."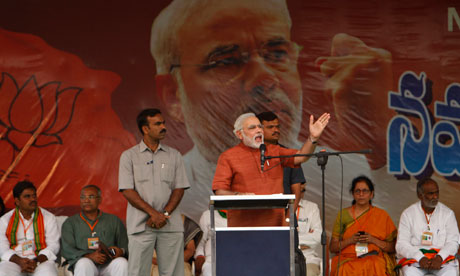 Barry Gardiner, Labour MP for Brent North, has defended the invitation to the politician to address MPs on "the future of modern India".
Mr Gardiner said: "This is a man who has been re-elected three times as the chief minister of the state in India with which Britain does the most business. In fact, we do more business with Gujarat than with the rest of India put together.
"He is now the leader of India's official opposition party. He is obviously a key player in Indian politics, and as such he is somebody British politicians need to hear from."
Shailesh Vara, Conservative MP for Cambridgeshire North West, has also invited Mr Modi to speak to a group of MPs in Westminster.
"I am aware that Mr Modi is controversial, but I am also aware that over the years there have been three inquiries, and that none of them have found anything against him," he told the BBC's Asian Network.
Interesting how both the Conservative and Labour arguments are being made with the business calculus. Politics makes strange bedfellows, indeed!
But, hey, the UK is not China. So, the
opposition
to Modi is
loud
as well.
As if all these aren't enough hassles for the country that seems to be in perpetual denial with its obsession over cricket and movies, the siblings--India and Pakistan--seem to be getting angrier at each other with every passing day, and bombs are bursting across the Line of Control at Kashmir:
Using heavy calibre guns, Indian Army retaliated strongly after Pakistani troops on Thursday resorted to unprovoked and indiscriminate firing with rocket and mortar shell attacks at LoC posts in Jammu & Kashmir's Poonch sector that injured three Army jawans and a civilian.
This is the 11th ceasefire violation by Pakistan in the past five days, Army officials said.
With a new government in Pakistan, and the end of the current government in India, it might be the most opportune moment for various factions to pursue their own narrow self-interests. It won't surprise me if the fragile situation brings the worst from the humans. I will be surprised, however, if the crisis in both countries become opportunities for wonderful things to bloom.
I hope to be surprised.