Consider the following
chart
: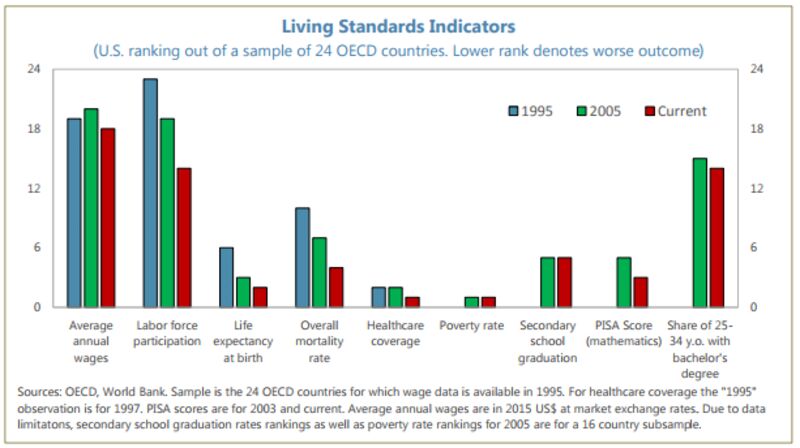 The Bloomberg columnist writes:
the overall point is that the U.S. has been losing ground relative to other OECD members in most measures of living standards. 1 And in the areas where the U.S. hasn't lost ground (poverty rates, high school graduation rates), it was at or near the bottom of the heap to begin with. The clear message is that the U.S. -- the richest nation on Earth, as is frequently proclaimed, although it's actually not the richest per capita -- is increasingly becoming the developed world's poor relation as far as the actual living standards of most of its population go.
USA! USA!
We are #1!
From the bottom!
Improving the numbers for life expectancy at birth, or healthcare coverage, will require a rethinking of the social contract that we have in the US, about which I have blogged here over and over and over again! The columnist also notes:
One major difference between the U.S. and most of the rest of the developed world is ideological: People and politicians in the U.S. are much more ambivalent about the modern welfare state than their peers in other wealthy nations and have been less willing to raise taxes to finance it.
And then we wonder why the white middle class is angry and on opioids!
That chart was from an IMF report. The IMF is headquartered in the US. But, according to its
charter
, it can't be here for long:
The articles of the organization say the headquarters should be the country of the member with the largest economy.
Uh oh!
Christine Lagarde, the managing director of the International Monetary Fund, joked on Monday about donning "dream binoculars" and seeing the possibility of relocating the group's headquarters to China.
"We might not be sitting in Washington D.C.," Ms. Lagarde said at a Center for Global Development event here in which she envisioned what the I.M.F. might look like in 2027.
Ms. Lagarde may joke, but her comments reflect a concern that world leaders have about the changing role of the United States in global organizations.
I don't understand why we in the US would systematically do things in order to decrease our global standing and also mess up our own people. Are we that fucking stupid? I suppose we are; after all, we elected the madman to the presidency, and also have a bunch of loons in the congressional majority trying to legislate godawful policies in the cover of darkness.